Dear Customers,
We have informations regarding our opening hours in May and Support Plan for Artists and Musicians!! 
1F Violin shop & M2F Atelier 
Operating hours stay as same as current one, but in order to prevent infections, please make a reservation.
Opening time : Mon - Fri 10:00 -19:00  / Saturday 10:00 -15:00
5F Studio
It has been changed from Monday - Sunday, 10:00- 19:00 until 31th May.
Here is our Support Plan. We would like to support artists and musicians with this plan as soon as possible.  
After the Coronavirus situation is resolved, we are sure that artists and musicians will be very busy working to recover the loss or to get back the normal situation, so we are determined to provide services and support with the best system.
===========================================================
< Support Plan for Artists and Musicians >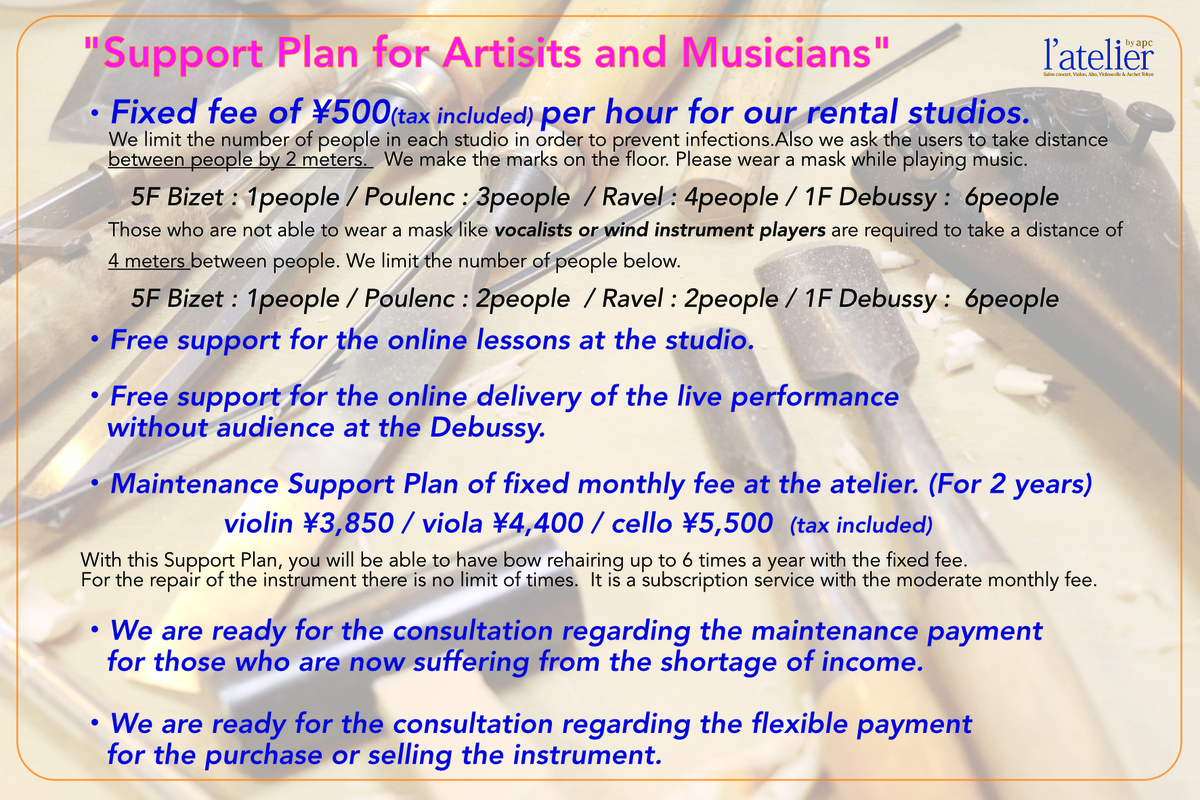 ・Fixed fee of ¥500(tax included) per hour for our rental studios.
We limit the number of people in each studio in order to prevent infections and consider by social distance.We make the marks on the floor.
Also we ask the users to take distance between people by 2 meters.
Please wear a mask while playing music.
 5F --- Bizet: 1 people / Poulenc: 3 people / Ravel: 4 people
    1F --- Debussy: 6 people
Those who are not able to wear a mask like vocalists or wind instrument players are required to take a distance of 4 meters between people. Bizet shall not be available due to its limited space.  
   5F --- Bizet: 1 people / Poulenc: 2 people / Ravel: 2 people
   1F --- Debussy: 6 people
・Free support for the online lessons at the studio.
・Free support for the online delivery of the live performance without audience at the Rental Hall, Debussy.  
・Maintenance Support Plan of fixed monthly fee at the atelier.(For 2 years)
        violin ¥3,850 / viola ¥4,400 / cello ¥5,500  (tax included)
  With this Support Plan, you will be able to have bow rehairing up to 6 times a year with the fixed fee. 
  For the repair of the instrument there is no limit of times.  It is a subscription service with the moderate monthly fee.
・We are ready for the consultation regarding the maintenance payment for those who are now suffering from the shortage of income.
・We are ready for the consultation regarding the flexible payment for the purchase or selling the instrument.
===========================================================
 Please read the following information as a precaution to prevent infection for all customers of l'atelier by apc.
 We will support you with this system for the time being.
・ All staff serve customers with wearing a mask. We kindly ask for your wearing a mask also.
・ Please disinfect your hands with alcohol at the entrance when you visit our shop.
・ We will always take a distance of 2m between customers and staff.
・ Staff avoid to touch directly the customers when making payment.
・Piano, desks, chairs, cups and glasses for drinks, Toilets, etc…are also cleaned and disinfected frequetly.
・Door knobs, handles, iPads, and other items that come into contact with the hands will be sterilized with alcohol several times a day.
<1F & M2F Violin shop & Atelier>
・ We can accept the reservation up to 2 people at the same timing.In case the customers happen to overlap at the same timing, please let us handle the customers separately taking enough space in between.
   ・When the customers go up to the atelier on M2F,  please let us accept only one person, and others please wait sitting on the chairs on the 1F.
・If it is difficult for you to come to our shop, we will take care of shipping out the items that can be shipped. the bow rehairing is also available for shipping ♪
l'atelier by apc onlineshop 
www.violinshoplatelierbyapctokyo.com
・ You can apply for the maintenance support plan from the online shop! 
Click here for details ↓
https://www.violinshoplatelierbyapctokyo.com/maintenance-support-plan
<5F le studio>
・ We accept the payment for studio payments on the 1st floor Debussy on Monday and Tuesday. Please go to the 1st floor before using and make the payment.
・ We take 30-minute intervals between the reservations for ventilation, cleaning and alcohol disinfection.
・ All customers are requested to wear a mask at all times during lessons and rehearsals.
・Please take a distance of 2m during lessons and rehearsals.
Voicals or wind instruments players, please take 4 meters. We will set a mark on the floor, so please use it as a guide.
<1F Debussy>
・ Please take a distance of at least 2m between performers.
・ We ask for all performers, organizers, customers and staff to wear masks.
   (Please note that anyone who does not wear a mask is unable to enter.)
・ We will take a break every 30 to 40 minutes to open the doors on the1st floor and M2F for ventilation.
It is our top priority to have artists and musicians recover their energy as soon as possible, and we strongly believe that it is important for artists and musicians and us to help each other. 
We must move forward thinking about the situation when things get back to normal after coronavirus disaster. In order to protect art and culture, l'atelier by apc holds a firm will to support artist and musicians with whatever we can. All what we can do is to provide opportunities and places for you to perform, and to sell string instruments and to repair and do maintenance work.
This plan is available for everyone involved in art and music.
We hope that our Plan will be of help for as many people as possible.
I look forward to seeing you again!
President Olivier PAOLI 
Staff